Andrea Simpson
28 Market Place
·
Melbourne, Derbyshire
·
DE73 8DA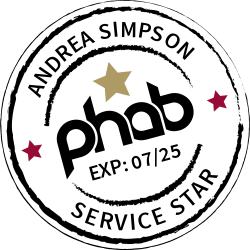 ---
---
---
Biography
'It's never just a facial …'
Imagine fusing the luxury elegant touches and attention to detail of the world's best spa treatment journeys, with the cutting edge of skin science, aesthetics & medical grade skincare to target your skin concerns, with a full 360-degree approach, with attention focused on soley on you, making you feel confident in your own beautiful skin and ensuring you leave with a crafted 'you time' as individual and unique as you.
Your experience with Andrea will be different to any clinic, beauty salon or spa you may have visited before with its unique way of delivering result driven treatments in a calm, holistic way with knowledge, experience and passion for skin health and wellbeing,
"I simply love skin, love facials and love making my clients fall in love with their skin all over again...." Andrea
Having been International Training Manger for Global Luxury Brand ESPA, training the best therapists around the world with luxury groups like Mandarin Oriental, Peninsula, Bulgari, One & Only, Ritz Carlton & Corintha London, from LA, Miami, Las Vegas to Milan the Middle East and most countries in-between, (with most being Forbes 5* listed and Conde Nast featured) Andrea's broad and diverse career has also seen her as National Trainer for the innovative and the celebrities favourite brand, Crystal Clear International, as well as lecturing in Further Education and treating celebrities, diplomats, royalty and journalists.
Andrea is an award winning facialist dedicated to delivering sublime result driven treatments, using only exceptional product brands and equipment which has given her the privilege of making a difference to client's lives through their skin. Andrea was a Finalist in the prestigious Professional Beauty Awards 2023/2022 Skin Clinic of the Year and 2020 for Boutique Salon of The Year UK and won the Luxury Travel Guide Spa & Wellness Awards 2019 for Facial Skincare Therapist of the Year. Andrea is also a Trusted Professional with Safety in Beauty.
Andrea only carries out facials by appointment only, focussing on advanced treatments for all skin conditions, such as acne, rosacea and ageing skin, but specialising particularly on menopausal skin. Something she has experienced and is very close to her heart. The consultation is constantly evolving. It starts every skin journey in detail and every subsequent visit thereafter so that your best skin experience can be given each and every time.
You will find Andrea's quirky oak beamed place of calm, steeped in charm and nestled away in the picturesque and historic village of Melbourne Derbyshire. The door is open, Andrea looks forward to looking after you and your skin soon.
---
Awards
Luxury Travel Guide Spa & Wellness Awards
Facial Skincare Therapist of the Year
2019
---
Price list
View price list
---
Opening hours
Wednesday
9:00am - 8:00pm
---
Specialty services
Andrea Simpson Autograph Facials, Bespoke advanced facials specialising in Menopausal skin treatments, Byonik Pulsed Trigger Laser, Geneo, SkinPen & Exceed Microneedling, Devine Pro Pyramid Facelift, Chemical Peels, Beautifeye, CACI, Coolifting, Acne, Rosacea, non-invasive skin rejuvenation, advanced bespoke skin treatments, cryotherapy, radio frequency, micro-current, nano-current, microdermabrasion, blemish removal, extractions
---
Hygiene practices
Staff temperature checks
Masks worn, always
Hand washing between customers
Work surfaces disinfected between customers
Equipment sterilised between customers
Hand sanitiser used
Hand sanitiser provided
New beauty paraphernalia used per customer
Cash-free business
Social distancing practised
Pre-booked appointments only
---
Environmental practices
Disposable beauty paraphernalia used
Paper bags used
Suppliers/manufacturers use sustainable products
Vegan range products available
Products not tested on animals
---
Main brands used
AlumierMD, Mesoestetic, Byonik, Geneo, Devine Pro, SkinPen, Crystal Clear, COMCIT, Coolift, Fillmed, Emepelle, Lumity, Cryopen, A-Lift, BioTheraputics, Coolifting, CACI, Exceed, Dibi Milano, thisissilk
---
Reviews
No reviews yet
Be the first to add one!
Add your review
Reviews are subject to approval prior to publication.
Only your review and your initials will be published; your name and email are stored securely and not released to the public.
Thank you!
Your review is currently pending approval from a member of the PHAB team. We'll reach out to you if we need any more information.